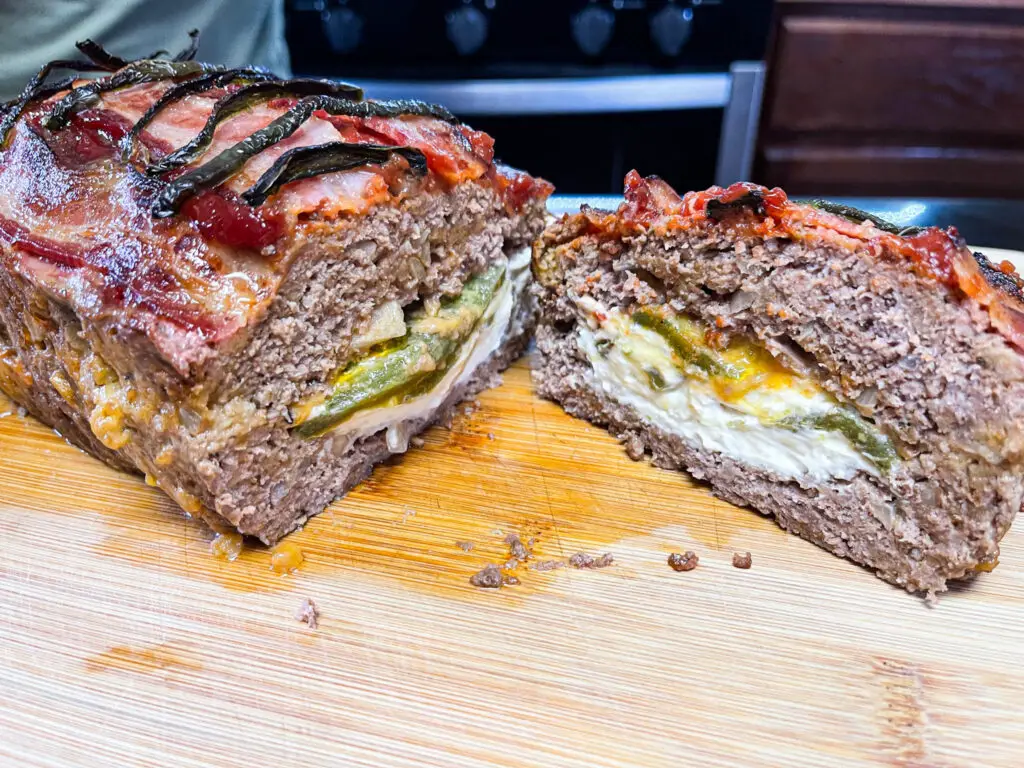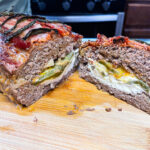 Print
Jalapeno Popper Stuffed Meatloaf
Equipment
small pot with lid

cutting board & sharp knife

large mixing bowl

9" x 5" x 3" loaf pan
Ingredients
2

lbs

ground beef

1

medium

yellow onion, diced small

2

large

eggs, beaten

1/2

cup

milk

1

cup

panko or bread crumbs, unseasoned

1/2

tsp

garlic powder

1/2

tsp

smoked paprika

1

tsp

salt

1

tsp

black pepper

8

oz

block cream cheese, cold, cut into slices

3

medium

jalapenos

1/2

cup

shredded cheddar cheese

4

pcs

bacon

1/2

cup

ketchup
Instructions
Preheat oven to 350 degrees. Spray a 9" x 5" x 3" loaf pan with non-stick cooking spray. Set aside.
Blanch jalapenos
Clean jalapenos. Cut off stems. Slice jalapenos lengthwise in half. Scrape out seeds and membranes from inside. Cut jalapenos in slices. Place in small pot filled with water 2/3 of the way up. Place on burner set to medium high heat. Place lid on pot and blanch jalapenos for 10 minutes. Remove from pot and dry the blanched jalapenos. Set aside.
Meatloaf mixture
In a large bowl mix together ground beef, onion, eggs, milk, panko crumbs, garlic powder, paprika, salt, and black pepper. Place 1/2 of the meatloaf mixture into bottom of prepared loaf pan. Smooth evenly. Using a spoon make a gully in the bottom portion of meatloaf.

In the bottom portion of meatloaf mixture in loaf pan place sliced cream cheese in the gully shape from one end to the other end of gully.

Place 2/3 of the sliced blanched jalapenos on top of the cream cheese slices. Sprinkle cheddar cheese on top of jalapenos.

Place remaining meatloaf mixture on top of the fillings and smooth out evenly making sure to seal the top of the meatloaf mixture to the bottom meatloaf mixture to keep cheese from oozing out.

Top with ketchup. Lay bacon across top to cover ketchup. Top with extra jalapeno slices.

Bake in preheated oven for 60-70 minutes until meatloaf is cooked through and bacon is crisp.

Allow to rest for 10 minutes before removing from pan. Once removed from pan, rest for 5 minutes before serving.