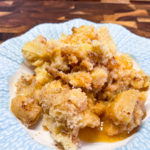 Print
Slow Cooker Apple Pudding Cake
Equipment
large mixing bowl

electric hand mixer

6 quart oval crockpot

spatula

apple peeler, corer, and chopper

sharp knife & cutting board

medium bowl & whisk

tea towel or thin kitchen towel
Ingredients
1

(14.25) oz

box white cake dry mix

+ ingredients listed on back of cake mix box (oil, eggs, and water)

4

honey crisp apples

1 1/2

cups

bottled orange juice or freshly squeezed

1/2

cups

honey

2

TBS

butter, melted

1

tsp

ground cinnamon
Instructions
In a large mixing bowl beat together cake mix and ingredients listed on back of cake mix box (oil, eggs, and water).

NOTE: to make a more bakery style cake (tastes delicious) substitute melted butter for the oil, and substitute milk for the water. Add an additional egg if desired. Use same quantities for milk and butter and it shows for oil & water.

Spray a 6 quart oval crockpot with non-stick cooking spray. Pour cake batter into crockpot.

Wash & peel 4 baking apples. Cut apples in half from top to bottom. Cut halves again. Cut a "v" shape along the core of each apple quarter to remove core. Rub half of a lemon on the whole apple quarters. Chop apple quarters into bite size pieces about 1/4 inch. Place apple pieces in crockpot on top of the cake batter evenly.

In a medium bowl whisk together orange juice, honey, melted butter, and cinnamon. Pour over the apples in crockpot. Using a knife swirl cake batter, apples, and mixture. DON'T OVER MIX. JUST SWIRL.

Place a tea towel or kitchen towel over the top of the crockpot. Place lid on. Cook on high for 2-3 hours. (Generally mine takes 2 hours and 15 minutes. The cake should be cooked through and apples nice and tender. The pudding settles underneath the cake. Enjoy with ice cream.