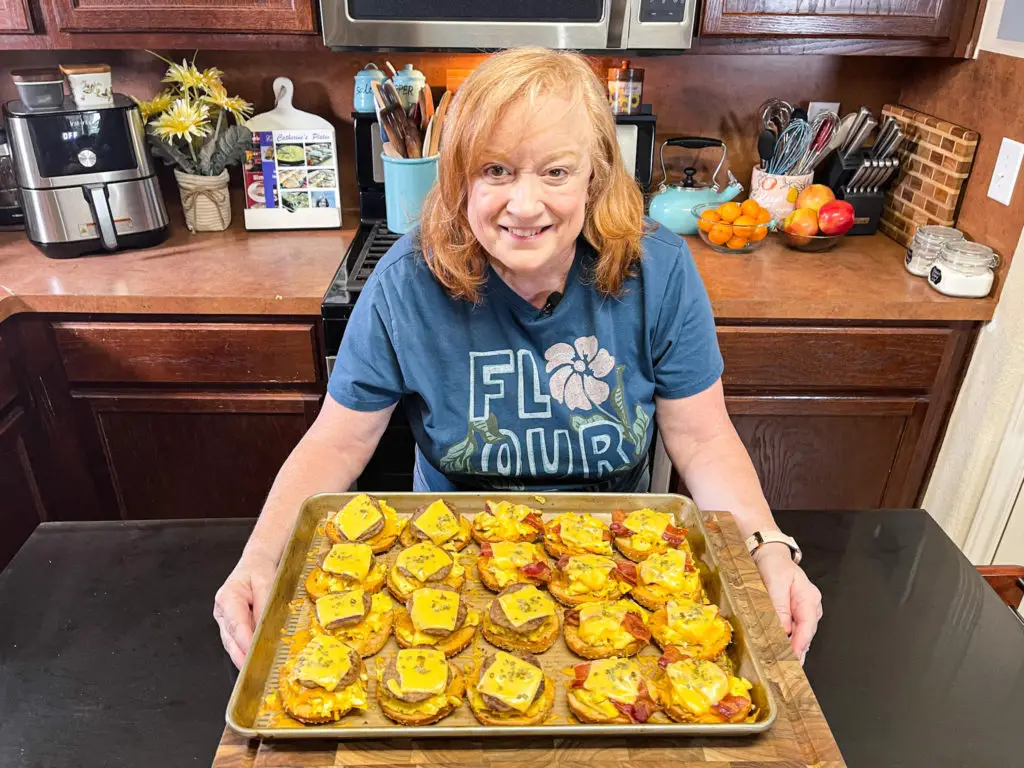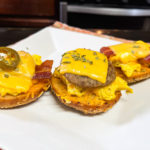 Print
Breakfast Mini Bagel Bites (Freezer Friendly)
Equipment
2 large sheet pans

parchment paper

large skillet

medium bowl & whisk
Ingredients
1

(10 pk)

everything but the bagel seasoning mini bagels

1/2

cup

melted butter

10

pieces

bacon, cooked until crisp (oven, air fryer, or skillet)

10

pieces

frozen jimmy dean cooked sausage patties

10

large

eggs

1/4

cup

heavy whipping cream or half and half

1/8

tsp each

salt, black pepper, garlic powder, onion powder, and smoked paprika. Season to taste

2

TBS

butter

2

cups

shredded cheddar cheese

chopped chives for garnish

5

pieces

american cheese, quartered
Instructions
Preheat oven to 350 degrees. Line large sheet pan with parchment paper or foil.

Break mini bagels in half and place on a prepared sheet pan. Brush melted butter on all 20 halves of bagels. Toast in oven for 15 minutes until lightly browned.

NOTE: make sure the inside of each half is facing upwards.

Prepare bacon the way you like either in air fryer, oven, or skillet until golden and crisp.

In a large skillet place sauce patties and 1/4 cup water over medium high heat. Cover with lid and cook for a few minutes to heat through. Remove sausage and wipe out skillet.

In a medium bowl whisk together eggs, cream, and seasonings. In same skillet that you removed sausage from add 2 TBS butter and heat to a medium and allow butter to come to a sizzle. Add in egg mixture. Stir with a spatula until eggs are set and no longer wet.

Top each half of bagel with enough scrambled eggs to cover. Top with shredded cheese to cover egg. Top with a sausage patty or a piece of crisp bacon. Top with a quarter piece of American cheese to cover sausage/bacon. Sprinkle with chopped chives.

Bake in oven for 10 minutes or until cheese has melted. Serve warm.

To FREEZE; allow bagel bites to cool. Place in freezer on pan to par-freeze. Remove from freezer and fit as many as you can in a Freezer Gallon size zip loc bag and freeze. NOTE: you can individually wrap them and place in freezer bag.

To REHEAT: place as many as you need on a paper plate and microwave for 2 minutes to heat through.