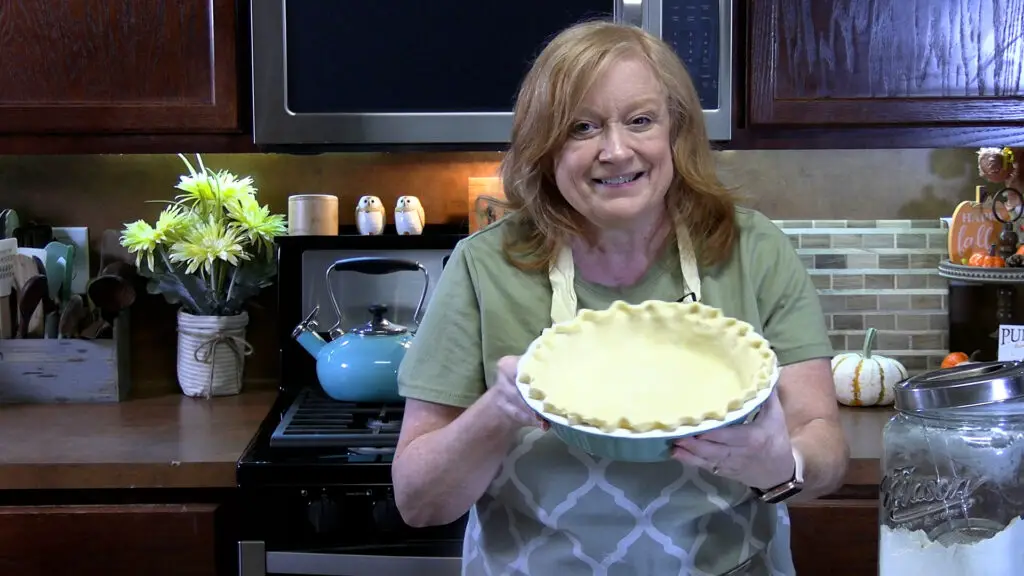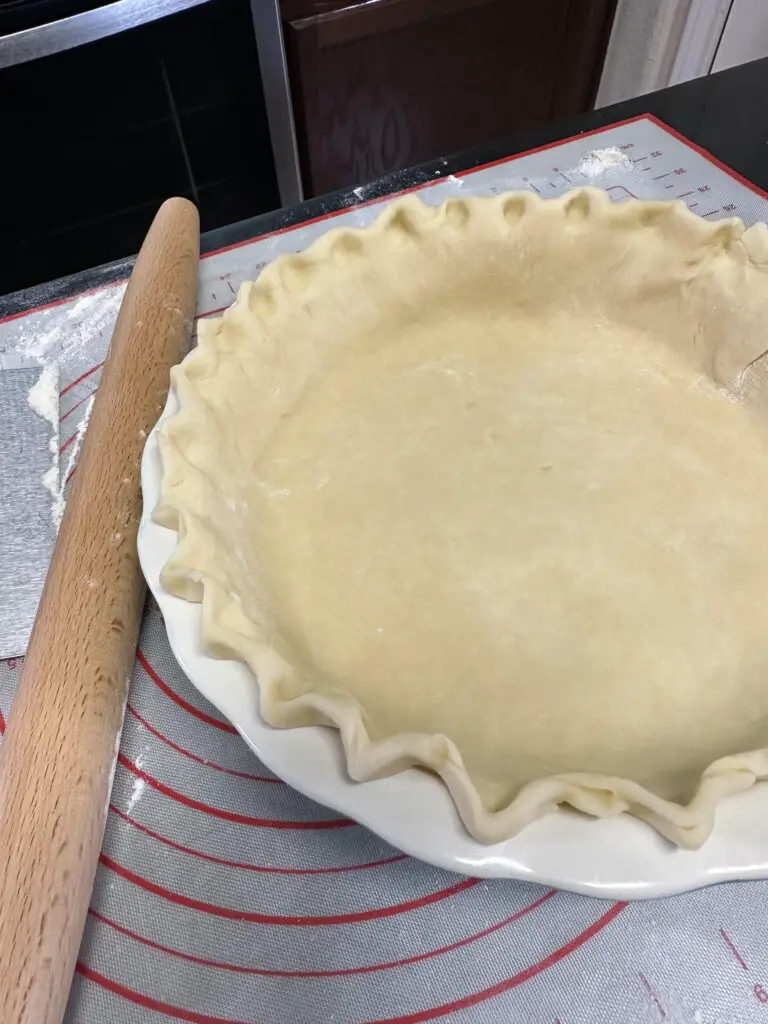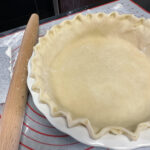 Print
Homemade Buttery Pie Crust
Equipment
1 cutting board & knife

1 large mixing bowl & wire whisk

pastry blender

measuring cup & measuring spoons

fork

plastic wrap

Rolling Pin

9 inch pie plate
Ingredients
1 1/4

cups

all-purpose flour

1/4

tsp

salt

1/2

tsp

white granulated sugar

1/4

cup

ice cold water

1/2

cup (1 stick)

cold butter

extra flour for rolling dough
Instructions
On a small cutting board cut cold butter into 8 pats. Cut each pat into 4 pieces, keeping them separated on your cutting board. Refrigerate butter to keep cold while preparing next step.

In a large bowl mix together flour, salt, and sugar using a wire whisk.

Place cold butter pieces all on top of flour. Using your fingers or a pastry blender cut butter into flour until it resembles coarse crumbs all covered with flour. Should have a pale color to it.

Add in water 1 TBS at a time, stirring with a fork, until dough forms. Form into a ball of dough and flatten into a disk shape.

NOTE: place ice cubes in cold water to keep it chilled during this step.

Wrap dough disk tightly in plastic wrap and refrigerate at least 1 hour to over night.
Roll Out Dough for Pie Plate
Take dough out of refrigerator and let sit for a few minutes. Lightly flour work surface and unwrap dough and place in center of floured work surface. Lightly flour top of dough.

Place rolling pin in center of dough and roll out to outer edge. Turn dough 1/4 of the way and place rolling pin in center and roll out again. Keep doing this until your dough is a circle 13 inches in diameter.

Place rolling pin at edge of pie dough and roll dough over rolling pin and roll to other end. Brush off excess flour along the way if needed, using a pastry brush.

Place rolled dough on top of your pie plate over lapping edge and roll dough off of the rolling pin going across the pie plate.

NOTE: your pie crust should be laying across the pie plate.

Pick up your dough along the edges and push down inside the pie plate to form your crust. Cut off any excess dough along the outer rim of pie plate.

Crimp, fold, or flute your dough edges along the pie plate rim.

Prepare pie using your favorite pie fillings.