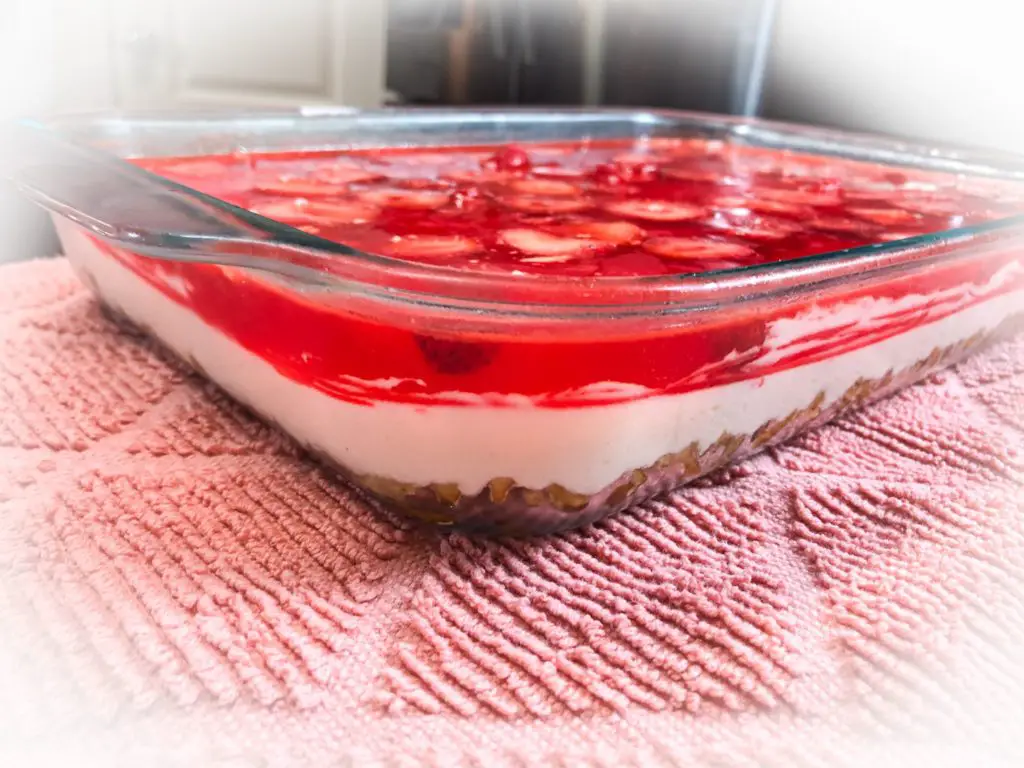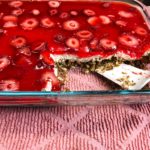 Print
Strawberry Pretzel Salad Dessert
A classic Recipe with 3 layers of deliciousness.
Ingredients
Pretzel Crust
2 1/2

pretzels crushed into pieces and crumbs

3/4

cup

butter melted

3

TBS

granulated sugar
Filling
2

(8oz) packages

cream cheese, softened

1

cup

powdered sugar

8

oz

whipped topping or cool whip, thawed
Jello Topping
6

oz box

strawberry flavored jello gelatin

2

cups

hot water

1

cup

cool water

3

cups

sliced fresh strawberries
Instructions
Preparing Pretzel Crust
Preheat oven to 375 degrees. Lightly spray the bottom of a 9 x 13 baking dish with non-stick cooking spray.

Crush enough pretzels to make 2 1/2 cups of pretzel crumbs. Either using a food processor or place pretzels into a ziploc bag, close, and roll over the pretzels with a rolling pin.)

In a medium bowl combine crushed pretzels and 3 TBS granulated sugar. Add melted butter and combined until all pretzels are coated. Pour coated pretzels into prepared baking dish and press them down firmly to form a crust on bottom of dish. Bake in preheated oven for 8 minutes. Pull dish out of oven and allow to cool completely on a wire rack for 30 minutes.
Preparing jello
While crust is cooling prepare jello. In a medium bowl or a large 4 cup measuring cup place contents of 6oz jello package and 2 cups of hot water. Whisk for 2 minutes until gelatin is dissolved. Stir in cool water. Set aside.
Preparing Cream Cheese Filling
When crust is cooled, start making the cream cheese filling. In a large bowl using an electric hand mixer beat cream cheese is light and fluffy (2-3 minutes). Beat in powdered sugar a little at a time. Using a spatula fold in whipped topping or thawed cool whip.

(To make whipped topping: Using an electric hand mixer, beat 8 oz of heavy whipping cream and 1/4 cup of powdered sugar until soft peaks form. Should be solid as cool whip.)

Spoon the cream cheese mixture onto the pretzel crust in dollops. Taking an offset spatula or a knife, spread evenly. Make sure to cover the entire pretzel crust leaving no gaps. (If you can still see the pretzel crust, make sure to cover with the filling, this will prevent the jello to seep into the crust making it soggy.)

Evenly place sliced strawberries all over the cream cheese mixture. Pour the liquid jello over the strawberries filling the dish. (you may have leftover jello, as you don't want to fill it all the way to the top of the dish.)

Refrigerate for at least 4-6 hours to overnight allowing jello to completely set. Enjoy.