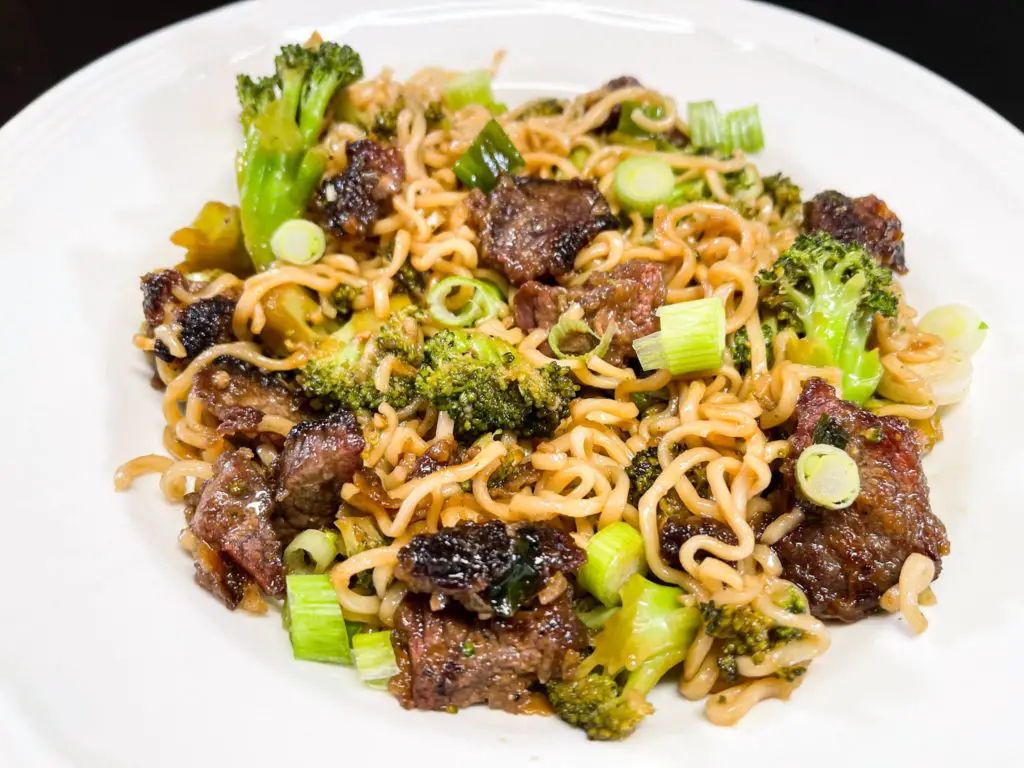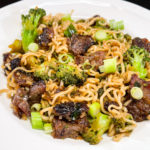 Print
Skillet Beef & Broccoli Ramen
We love this dish. The recipe came from one of my Facebook Followers who had wanted me to give this one a try. We don't regret it at all. It's that good. I hope you enjoy.
Equipment
large deep skillet with lid

medium sauce pan & strainer

cutting board & large sharp knife

large sharp knife

medium bowl & whisk

large ziploc storage bag
Ingredients
1/4

cup + 2 TBS

vegetable or canola oil, DIVIDED

3

tsp

minced garlic, DIVIDED

2

TBS

apple cider vinegar

1/4

cup

honey

1/2

cup + 2 tsp

low sodium soy sauce, DIVIDED

1

TBS

Italian flat leaf parsley, chopped

16

oz

flank steak

3

TBS

cornstarch

2

TBS

toasted sesame oil

1/3

cup

brown sugar

1/2

tsp

ground ginger

1

cup

beef broth

1/4

cup

hoisin sauce

4

cups

frozen broccoli, thawed & chopped

2

pkgs (3oz) each

ramen noodles, (any flavor; the flavor packet is not used in my recipe)

1/2

tsp

salt

1/4

tsp

black pepper

2

green onions, sliced thin, garnish
Instructions
Thinly slice flank steak against the grain into 1/4 inch strips and then cut strips into 2 inch pieces. Place steak pieces into ziploc storage bag.

In a small bowl whisk together 1/4 cup vegetable or canola oil, 1 tsp minced garlic, 2 TBS apple cider vinegar, 1/4 cup honey, 1/4 cup soy sauce, 1/2 tsp salt, 1/4 tsp black pepper, and 1 TBS chopped parsley.

Pour marinade over steak in ziploc bag, seal bag, make sure all steak pieces are coated with marinade, place in refrigerator for at least 1 hour up to 6 hours (no longer than 12 hours.)

Flip bag over halfway through marinating time.

Once steak is marinated remove from refrigerator. Bring a medium pot of water to a boil. Add 2 packages of ramen noodles and stir for 2 minutes. Drain and rinse in cold water. Set aside.

Remove the steak and drain off any excess marinade. Toss steak and cornstarch in medium bowl to coat.

Heat 1 TBS cooking oil in large skillet over high heat until hot & shimmering. Add 1/2 of the beef in a single layer. Allow it sear for 1 – 1 1/2 minutes without moving the meat. Turn beef over and move it around for 30 seconds until crispy. Transfer to a plate.

Add 1 TBS more cooking oil and the rest of the steak and prepare the same way transferring crispy beef to plate.

In same skillet add beef broth, brown sugar, remaining soy sauce, sesame oil, hoisin sauce, remaining garlic, and ground ginger. Stir and cook uncovered over medium heat until sauce thickens and reduces by 1/3 (5-8 minutes).

Turn heat to high and bring to a boil. Add broccoli (do not stir in) and cover with lid and turn heat to low. Allow broccoli to steam for 3 minutes until tender. Remove lid and add in cooked ramen and cooked flank steak. Stir together.

If sauce is too thin, stir in a cornstarch slurry to help thicken. (2 TBS cornstarch whisked with 2 TBS water)

Top with sliced green onions. Enjoy immediately.